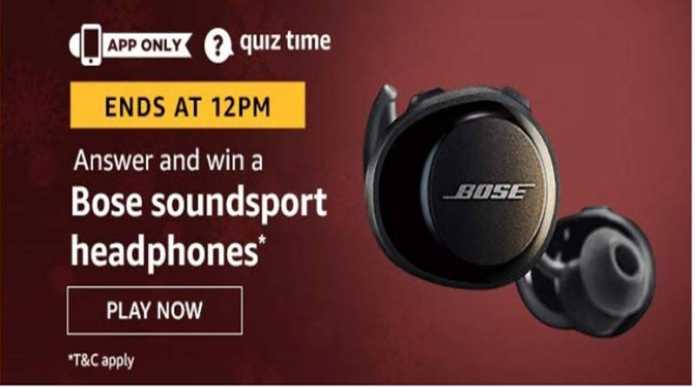 Amazon Bose Soundsport Quiz Answers of today is live now. Submit the correct answers of bose soundsport quiz and get a chance to win a Bose headphone. After providing all the correct answers winner will be selected after a lucky draw.
Amazon Bose Soundsport Quiz is live. So if you are looking for the right answers of quiz then your are in right place. We are trusted site for geting correct answers of amazon daily quizes. We reqularly updates the latest quiz answer for our daily visitors.
How to Play Amazon Bose Soundsport Quiz
1. Download Amazon Application From Apple Store OR Google Play Store.
2. Open the app & Sign in to your amazon account.
3. Scroll down and look for the quiz banner or search "Funzone" or Quiz Word in the app.
4. Click the start quiz button and there will be a challenge of 5 questions.
5. Answer all Amazon Bose Soundsport Quiz questions correctly to enter in lucky draw.
Amazon Bose Quiz 2020 Answers – Win Bose Soundsport Headphones
Amazon Quiz Answers:
Q1. Which country, recently in news due to elephant deaths, is home to almost a third of African elephants?
Answer 1: Botswana
Q2. Institute of Liver and Biliary Sciences in Delhi is the host of India's first __ , launched very recently.
Answer 2: Plasma Bank
Q3. For the first time ever which Grand Prix opened the F1 calendar with a closed door event?
Answer 3: Austrian Grand Prix
Q4. In Gujarat, Dhanvantri Rath services has been launched to provide what kind of services to the people?
Answer 4: Healthcare
Q5. Which 200-year-old apparel company, that outfitted 40 of the last 45 US presidents, recently filed for bankruptcy?
Answer 5: Brooks Brothers