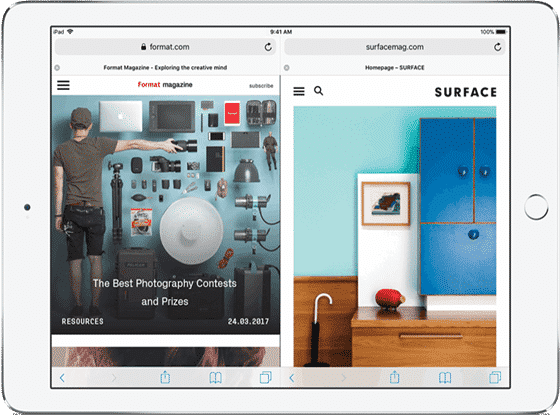 The iOS 9 takes the Apple iPad's multitasking capabilities to an entirely different level. The iOS 9 new split feature lets you run two application side by side on your iPad. The new features very much helpful when you want to copy and paste data from one app to the other. But the new Split View only works with the iPad Air 2 or newer versions of iPads. Older iPads having limited working to the Slide Over feature.
How to use the Split View multitasking feature on the iPad
Just follow these simple steps to use the Split View multitasking feature on your iPad:
1. Open the first application that you want to use in the Split View. Also, remember that some apps might not support the split view feature of ios9.
2. Now put your finger on the right middle section of your iPad's screen and then swipe Fingers to the left to open the Slide Over sidebar.
3. Put your finger on the top of the newly opened right screen and swipe downwards.
4. Swiping downwards will show you all the apps installed on your iPad.
5. Now look for the app you want to run on the split sidebar.
6. Tap to open the second app, and it will start running on the sidebar.
7. Now you can pull the dividing bar towards the center of the iPad's screen.
8. Your second app will now share the screen with your first app.
9. You can adjust the size of the app screen by sliding your finger to the left or right to make custom size app screen.
Now it's done to enjoy the new multitasking feature. If you want to close your second app, just tap on the vertical line that divides the two apps and swipe it back to the right to close the second app.