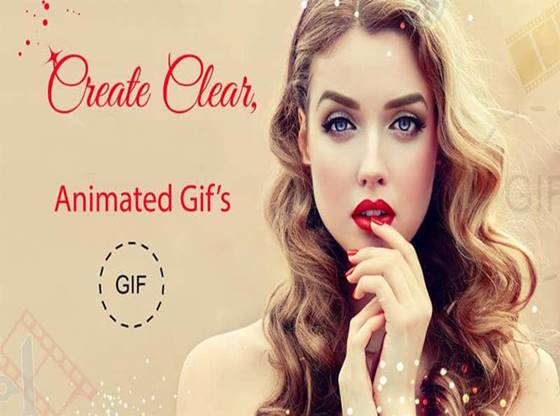 Today gif is one of the most famous picture formats that support still and moving animated images. Gifs is an animated image or picture formats. Converting video into gif formats help you to easily share jokes and status to WhatsApp or other social media formats. You can also say that gif is a compact format of your video jokes because it dramatically reduces the size of your videos.
Although there are different software available for converting video formats into a GIF, Now in this tutorial, we will show you how easily you can turn a Video into a GIF format using a software application named as Instagiffer. Also, we will tell you how to convert videos into gifs with the WhatsApp messenger app.
Method 1:- Converting Videos into GIFs formats on Computer Using Instagiffer
1. Firstly Download instagiffer from the official instagiffer site and double click to install it.
2. After installing the application launch it on your windows.
3. Now when you open it, you can find an empty text box at the top under the "step 1". Enter the youtube video URL or path of local video which you want to convert and then click load video. You can also record your screen for creating gifs of it.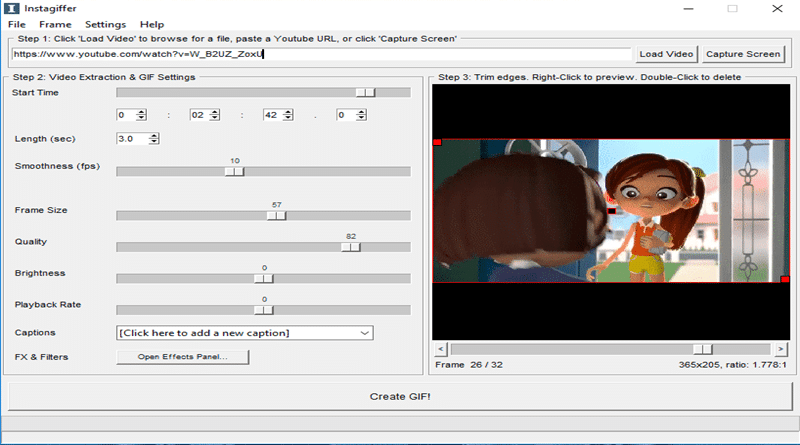 4. Next, you have to select the "start point" of the video from where you want to create a Gifs. Enter the start point in an hour, minutes, seconds and or even milliseconds.
5. Now in duration fields select the length of the GIF you want to make in seconds. Also select the brightness, frame size, Quality, playback rate as per your choice.
6. Instagiffer also gives you some extra layer of effects to apply it on your videos just check the boxes in the front of that particular effect.
7. Select a caption under the captions filed to add a caption to your gifs, or you can leave it blank.
8. On the right, you can also watch the preview of your gifs and make changes if needed.
9. After applying all the customization hit "Create Gif" to complete the process and done. Now share and enjoy newly created gifs.
Method 2:- Create Gifs on android using WhatsApp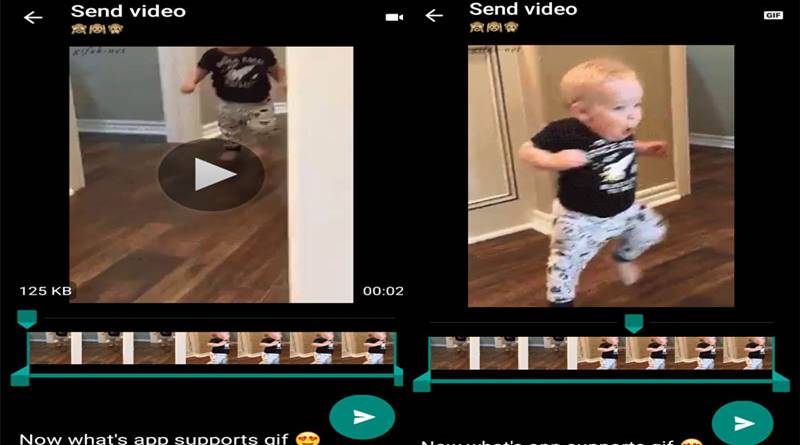 1. First, if you don't have WhatsApp on your phone then download and install it.
2. Open WhatsApp on your mobile and go to any conversation or chat on WhatsApp.
3. Click on the paperclip button located at the bottom right of a textbox.
4. Now if you already have a video to convert select Gallery option from the box. If you want to create a new video, then choose the camera option to create a new video.
5. When you select the video, a video editor will appear in front.
6. Now drag the slider on the top to make selected video less than 7sec.
7. If the selected video area is less than 7 sec, a Gif button will appear in the top right.
8. Click the gif button and add custom text and smiley on your gifs then send it to your friends via send button.