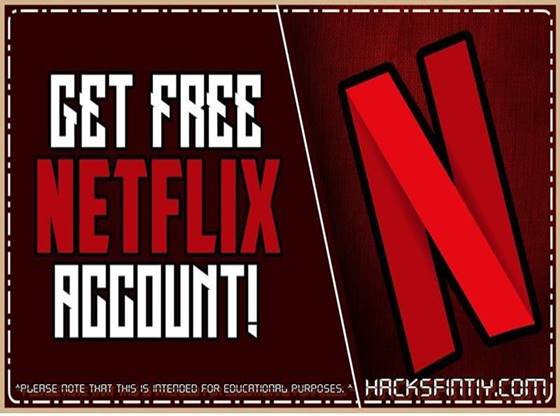 If you love watching TV Shows, movies or any form of original web content, then you would definitely know about Netflix. Here you can catch up on all new movies or episodes of shows with a Smartphone having internet connection. Netflix brings up a massive revolution in the way how we watch movies or tv shows. Now either you are at a bus stop or railway station no matter where you are you have access to your favorite tv shows and movies in just a few clicks.
What is Netflix?
Netflix is an online streaming service that allows viewers to watch a wide variety of award-winning movies, TV shows, documentaries, and more on your internet-connected devices. With Netflix, you can enjoy the unlimited viewing of daily updated content without any commercials.
Why Choose Netflix?
1:– Search from the tons of movies and serials which get updated on a regular basis.
2:- Rate the programs you watched on Netflix and accordingly you can get the recommended program from Netflix.
3:- Feel free to watch movies and programmes at any time.
4:- You can initiate watch of any content on your one device and then pause it and resume it on your other device.
5:- Cost-effective streaming service which allows you to choose your plan according to your need.
Method1:- Free Netflix Cookies Method
This method allows you to get a premium Netflix account with the help of cookies. In this method, we can change our browser cookies with the premium Netflix account cookies. When a premium user logs into his Netflix account, then the new cookies are generated on their web browser with the info of login and session data.
Now with the help of these premium Netflix account cookies any nonpremium user get access to the unlimited premium content.
How to use free Netflix cookies
Now follow the below steps carefully to get access to the premium Netflix account with the help of cookies.
1- Firstly Install the Edit this cookies extension on your chrome browser.
2- Download the working Netflix cookies from the below links.
3- Now visit the https://www.netflix.com/ and wait for the page to load completely.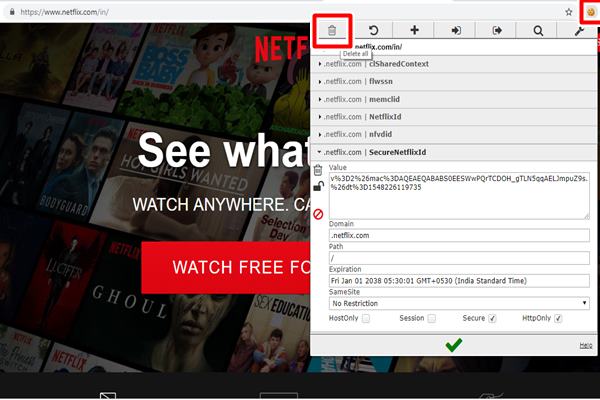 5- After page fully loaded click the cookies icon at the top.
6- Now click on the bin icon to remove previous cookies.
7- Open the previously downloaded cookies files and copy the whole text from the file.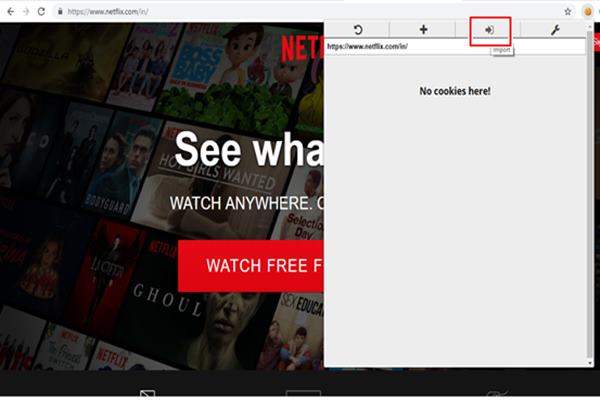 8- Click the import icon and then paste the copied text.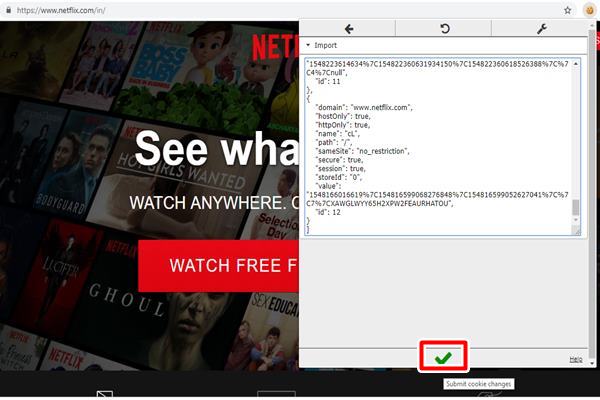 9- Now click the green check sign at the bottom to submit new cookies and now refresh your page and enjoy the premium Netflix account.
Method2:- Free Netflix Account using Virtual Cards
It is one of the most trusted methods to get unlimited Netflix account as you know that Recently Netflix had announced a monthly trial pack which gives you access to free one-month membership. However, for this trial pack, you have to give your debit or credit card details which most of you are not willing to do. Now to overcome to this barrier and use this one month trial pack for the unlimited time, we came up with a trick. In this trick instead of giving the real credit/debit card details, we provide the virtual card details to get the monthly subscription.
Now for this method, you need to download an app called tmw – wallet from the playstore or you can use any different app for generating a virtual card. Follow the below steps for creating a virtual card from tmw – wallet app.
Now Please Follow the Step By Step Process.
1- Firstly download the TMV app from the given link.
2- After downloading just click the signup button.
3- Now, enter the correct details like First name, Last Name and any of your document proof number. For proof, you can use Pan card, Driving license or any other document.
4- Read the terms and accept the agreement and click the sign-up button.
5- Now, enter the OTP you received on your registered phone and click the proceed button.
6- Set your 4 to 6 digit M-pin which needed for later use.
7- Now click the cards option which is located below. Then apply for the virtual card by clicking apply now button. Now enter your email address and your date of birth and click apply now.
8– Now you got your virtual card with all the details needed required.
9- Open the Netflix website in a web browser, or you can download the Netflix app on your mobile and click the register button.
10- Now select one of the given plans and enter your email and password for Netflix account.
12- Enter the virtual debit card details when asked and click the start membership button to finish.
13- After that verify your card by entering the OTP, you received by the bank and click submit.
That's it. Now enjoy the full month Netflix without any cost. Using this trick, you can easily create multiple accounts for an unlimited time.