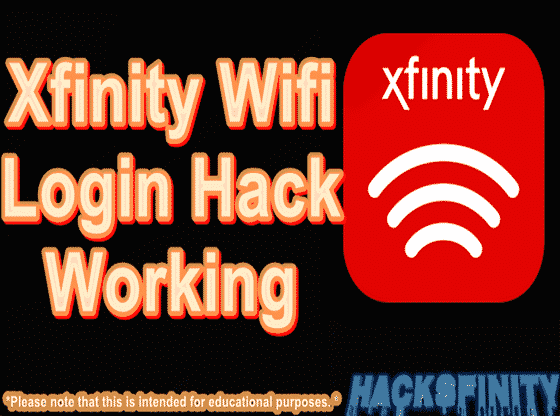 Welcome back guys in the latest Xfinity Wifi Login hack tutorial. In this tutorial, we are going to show you how you can get free Xfinity wifi access for unlimited internet. We are making this tutorial because we know that many previous Xfinity wifi hack methods are stopped working now. So guys on your demand we are bringing up some new latest working Xfinity hack methods that help you get access to free wifi. Now all those who are looking for Xfinity wifi bypass or hack method or free Xfinity username and password methods can get all your answers here in this working tutorial.
In this tutorial, we are going to show you two best Xfinity wifi hack methods that are still working now. The first method is very traditional, and some of you might have listened about it. But if you don't know how to apply it on Xfinity wifi, so we are describing it step by step. Our second method is based on Xfinity trial hack, or you can say unlimited Xfinity wifi access passes for free internet. So guys now check out these methods.
Method1- Xfinity Wifi Login Hack With

Psiphon

App
Psiphon is an app that utilizes SSH, VPN, and HTTP Proxy to provide you the uncensored access to Internet content. This app allows you to connect to any wifi network around you without the username and password. So if you are looking for how to hack Xfinity wifi on android then guys this app is made for you. Xfinity wifi hotspot hack is a reality with the use of Psiphon app. Now follow the steps given below for free Xfinity wifi hack.
1- Firstly download the Psiphon app on your android phone. ( Windows user can use its Pc version).
2- Now install and open the Psiphon app on your mobile.
3- Open wifi from the settings and connect your phone to nearest hotspot.
4- When you run the Psiphon app it will ask you to "Tunnel Whole Device" or "Psiphon browser only."
5- Now tap on the "Tunnel Whole Device " and confirm Ok when prompt asks.
6- Pishphon now automatically detect the connected wifi hotspot and then and bypass its privacy.
7- After successful tunneling, it will show fixed "P" on the top of your phone and now enjoy the unlimited Xfinity login hack.
Every time you switch off the phone or close the Psiphon application you have to repeat the whole procedure again to apply the Xfinity wifi login hack.
Method 2: Xfinity Wifi Free Trial Hack Method
Now, guys, this is an another working Xfinity wifi login hack method that allows you to use the unlimited Xfinity wifi free trial. This Xfinity wifi free trial hack method uses the Xfinity wifi complimentary pass hack technique to get the unlimited wifi passes. This technique mainly uses a simple methodology that Xfinity uses your mac address to identify your phone and give Xfinity wifi complimentary pass according to it.
How this Method Works?
Now in this technique, we are using a rooted phone and changes its mac address with the mac changer app which allows us to get a new complimentary pass for Xfinity. Every time your Xfinity wifi complimentary pass expire you can use this technique to get a new pass. So follow the easy steps that are given below.
1- Firstly open the Xfinity wifi login window.
2- If you are a first time user then you can get free Xfinity WiFi trial for one hour by tapping on "I don't have an Xfinity account" and enter details asked for signup. But if you already used your Xfinity wifi pass trial, then for you the trick starts from here.
3- Now install the mac changer app on your rooted android phone. Guys if you don't have rooted android phone then check out the linked tutorial.
4- Connect your rooted android phone with the nearest Xfinity wifi hotspot before opening mac changer app.
5- Now open the mac changer app, and it will show you the real mac address of your phone.
6- Scroll down to the bottom and tap on "generate random mac" button.
7- After a successful mac address change you can see the new mac address on your device.
8- Now connect again to the Xfinity wifi hotspot after mac address changes.
9– Once connected to Xfinity Wifi click the followed link to go to the Xfinity Signup page again.
10– Now tap on the option "I Don't have Xfinity Account" and then again tap on "Get a Wifi On demand Pass."
11- Select the option "Complimentary Hour Pass" and hit the "Continue" button.
12- Enter the new details when asked for the signup and then enjoy the unlimited Xfinity WiFi free trial.
Note: With applying this trick again and again, you can get the unlimited Xfinity wifi passes. Enter the different zip code and any temporary email for this purpose. So guys hope you like the Xfinity wifi login hack methods. If you have any query or suggestion, then feel free to comment below.