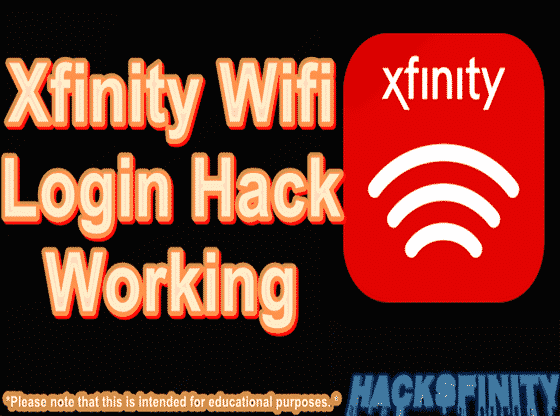 Hey, guys now if you are looking for a method to get free Xfinity wifi username and password. Then we must say you came to the right place. Here in this tutorial, we will show you the step by step process to get Free Xfinity Wifi Username and Password which will help you to access free Xfinity pass.
As you all know to access the Xfinity wifi, you must have an Xfinity username and password. But with this trick, you can easily bypass Xfinity username and password and get unlimited access to the internet.
Free Xfinity Wifi Username and Password Hack Trick
Before moving to the trick, let's get some knowledge about the Xfinity wifi networks. So that you can easily understand the purpose and working of the Xfinity wifi hotspot. This will give you an overview of how they provide username and password and offer one hour pass for Xfinity users for surfing the internet.
What's Xfinity WiFi?.
The Xfinity WiFi is a network of hotspots that allows you to connect to the Internet with high data speed and also saves your wireless data plan. XFINITY WiFi is a service exclusively for XFINITY Internet users. Xfinity users can connect their laptop or WiFi-enabled device to the Internet from the public WiFi hotspots.
It supports auto-connection whenever the allowed methods are in hotspot range. In general, Xfinity WiFi is the next-generation way to share personal information online without any fear of theft or spam.
Notice: This is for educational purposes only. Misuse can put you in legal problems.
How to Locate an Xfinity Wi-fi Hotspot?
1- Visit the wifi.xfinity.com and then check the hotspot map available for your location.
2- The other method is to download the official Xfinity app for your android or IOS. Now input your current location and click Search to get the nearest Xfinity wifi hotspot.
What is Xfinity Wi-fi Username and Password?
To get access to Xfinity hotspot, you need to enter valid login username and password. In case you've both of those credentials (and they're still valid), you might get access to the high-speed internet. But if you don't have a valid login ID, then there is a method which can help you to bypass their username and password page.
The Best Way to Bypass Xfinity Username And Password Hack — Xfinity Wi-fi login Page Hack
So guys now let's check out the best way to bypass Xfinity Username and password hack. This method mainly works by giving you the ability to create multiple Xfinity account by providing different account details, so that you can have unlimited wifi passes.
Currently, this is the best way to hack the Xfinity username and password. With this method, you can create an Xfinity account without paying any subscription. Now follow all the steps carefully if you want a free Xfinity account.
1- Firstly, you have to download the official Xfinity app from playstore or AppStore.
2- Now to Bypass Xfinity Username and Password click on the link.
3- If anyone is having difficulty in accessing the above link then go to Xfinity login page and then click on forget password now you will be automatically redirected to service page.
4- So now you can see a screen appears in front of you having three options.
5- Now select the Phone Number or Account Number or Serial Number for the identification process.
6- Enter a legitimate account number/telephone number/serial number.
7- Follow the instruction on the screen and enter all the required details.
8- Now click the submit button to get your username and password for Xfinity Wi-fi.
9- After the successful account creation visit to the login page and enter the username and password and then enjoy high-speed internet service for free.
In case you've any question regarding this particular trick. Then, comment below and don' t forget to share this article with your mates.